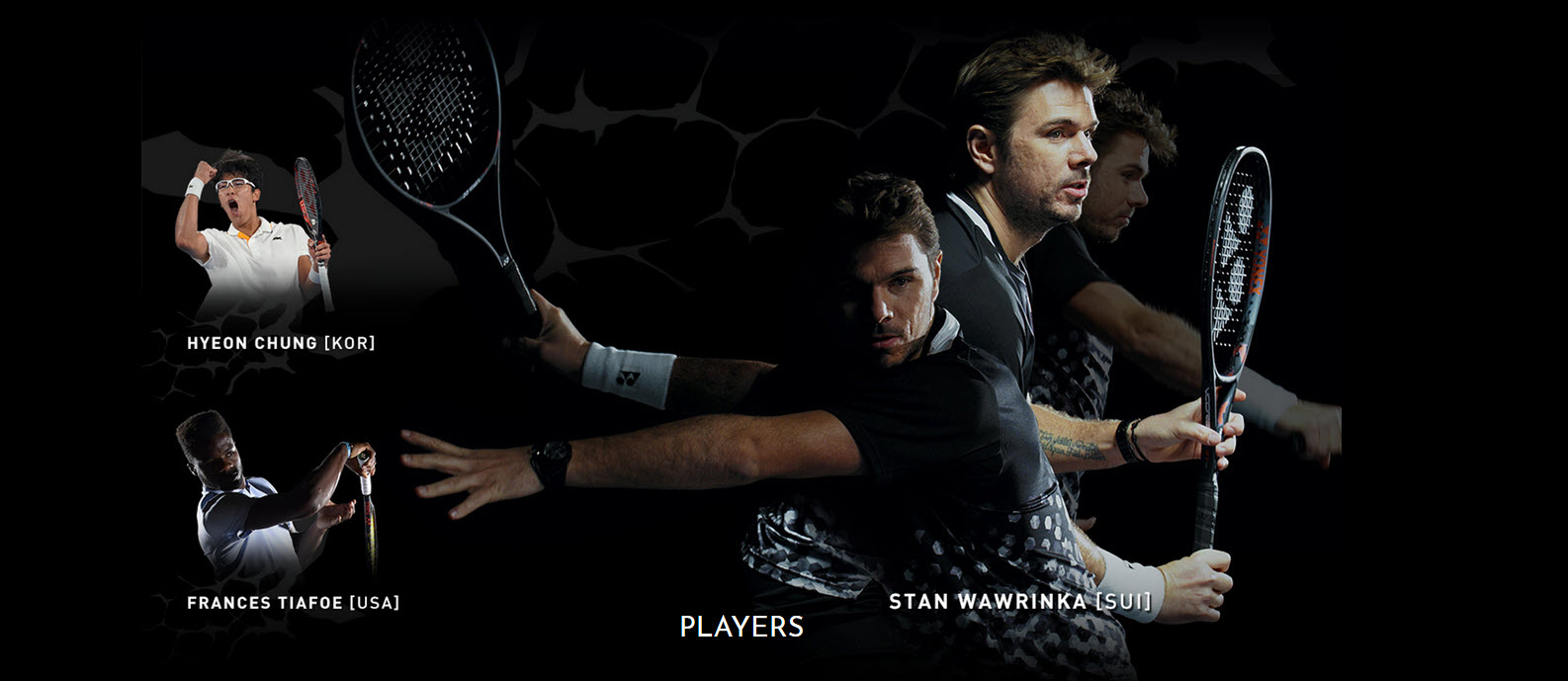 Introducing the New Yonex VCORE Pro 97 Tennis Racquet
If you were pleased with the performance-oriented specifications of the VCORE Duel G 97 racquet, there's good news. The racquet model is now coming out in a revamped avatar, called the VCORE Pro 97, which has taken the specs of its predecessor a notch higher. Let's check out its details here.
Distinguished specs and enhanced performance
The Yonex VCORE Pro 97 comes with a comparatively closed head which measures about 97 square inches and a flexible beam which measures approximately 20 millimeters. As such, this racquet is likely to give you unmatched stability, control, and feedback at each ball impact. At a strung of 11.5 ounces, the VCORE Pro 97 is apt for both intermediate and advanced players who look for swift handling without compromising stability.
Besides these aspects, the VCORE Pro 97 sports has many innovative features, which are as follows:
Namd: The new version comes in an innovative material called Namd, which is used in strategic locations to optimize responses to ball impacts in a flexible manner.
Isometric head shape: The VCORE Pro 97 keeps the signature technology of its predecessor intact with the isometric head shape. The head is designed in this way to provide more room for maneuvering the racquet by the player.
Lock Booster System: This version comes with a lock booster system, which enhances the power with its ridged grommet strip.
When seen from the perspective of a baseline player, the Yonex VCORE Pro 97 feels crispers and more accurate than its heavier sibling. The 16×19 string pattern gets a welcome update, which gives players plenty of room to spin.
The VCORE Pro 97 also swings faster than its predecessor. The racquet provides a much broader cross-section to enable players to hit shots in a pinch or create an effective pace. Considering all its specifications, it won't be wrong to say that this racquet is a more robust piece of engineering that provides easy targeting and great feel.
Endorsed by the expert player
The Yonex VCORE Pro 97 is endorsed by Stan Wawrinka, who is a professional tennis player from Switzerland having one of the most powerful backhand striking abilities. He is a highly versatile and adaptable player who can show this prowess on all kinds of courts.
Stan Wawrinka is the semifinalist at the US Open and the Barclays ATP World Tour Finals in 2013. He went to achieve other victories, such as getting the first Grand Slam title at the 2014 Australian Open after beating three world-renowned players. He also won Roland Garros in 2015 and attained his third Grand Slam title at the 2016 US Open.
Stan Wawrinka is proud to associate himself with Yonex and playing with the revolutionary VCORE Pro 97 racquet.
We are happy to announce our partnership with YONEX! 
Come to visit us to learn all about this powerful racquet.
World Tennis
Miami Beach Store
📍 1448 Alton Rd , Miami Beach, FL 33139
☎️ (305) 531-0008 or toll free 1(855) 258-6677
🚗 Friendly Parking
M-S: 9AM – 9PM | Sunday: 10AM – 7PM