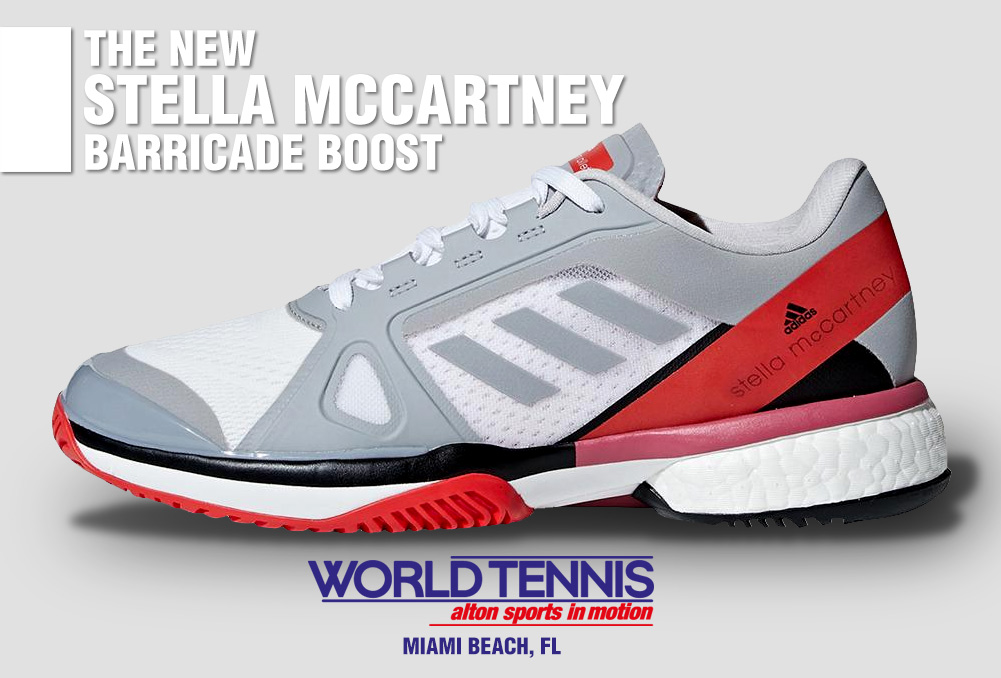 New Barricade Boost Stella MacCartney
This new Barricade Boost by Stella McCartney is very comfortable and stylish, with a slightly wider toe box. The softer heels with Boost makes explosive movements on the tennis courts feel lighter and more responsive. Available at our Tennis Store, Miami Beach, FL.
New Barricade Boost Stella McCartney
If there's any tennis shoe manufacturer that knows the art correctly, then it has to be Stella McCartney, the English fashion designer who's also the daughter of the legendary singer from The Beatles, Paul McCartney and American musician Linda McCartney. Her range of tennis shoes called Barricade Boost is what women tennis players need for getting enhanced style and better performance.
Features of Stella McCartney's Barricade Boost
Anyone who sees you flaunting the Barricade Boost, they are sure to think that you take your game very seriously and you cannot compromise with your aura. That's what the Barricade Boost does—it gives you the spirit of a real tennis player.
Looking at the specification of Barricade Boost, the pair of tennis shoes does seem like an upgrade from traditional shoes. The heels of these shoes are fortified with the Boost technology which ups the comfort with maximum cushioning. For step-in perfection, the pair features a smooth Primeknit material on the upper portion. It's one of the most exciting designs to have come into the realm of tennis shoes for women.
Besides the knit and cushion, Stella McCartney's New Barricade Boost has the following features:
Agile and stylish design, allowing for smooth gliding over the court.

Lace-up closure mechanism.

Secure lockdown with a well-designed TPU heel counter.

Plush collar and tongue.

Fabric lining provides a soft feel.

Patented midsole feature ensures quick, light, and energetic steps.

Rubber outsole provides proper grip for lateral movements on abrasive courts.

The herringbone tread pattern provides ultimate traction.
Performance, comfort, and speed brought together
Stella McCartney Barricade Boost are quicker, lighter, and more comfortable than before. More often than not, high cushioning in shoes makes you slow on the court. But it is entirely different in the case of the Barricade Boost.
You won't have any break time owing to the superior responsiveness of these tennis shoes. Don't worry about your toes touching the front because these shoes provide plenty of room inside, making them a highly breathable option for summer games.
The stability and support that you get from these shoes are far better than the previous versions. The super soft feel comes with the knit uppers, but these shoes are far more flexible than any other tennis shoes. Thanks to its stretchable, lightweight and breathable material that you can increase your speed, stability, and on-court confidence.
If style, comfort, and superior performance are what you are looking for in your tennis shoes, go for Stella McCartney's Barricade Boost.
Available now at our Tennis Store.
Buy Now! Call World Tennis Miami Beach.
Phone  305 531-0008.
1448 Alton Rd. Miami Beach, FL  33139